Hi Nelson,
I've got the same massage on both my Coinspot SAFEX wallet and XRP wallet.
I hear its maintainace. And also it might be a good thing as they may be enabling safex to be deposited back into coinspot





Could be a management thing with the large volumes moving. You can still trade other coins for safex. As above xrp is also locked. With their strict verification it must impact on manpower.
Getting Delisted from Coinspot, and no trade on Upbit either…
Not looking promising people, get ready to hodl for a very long time if no other Exchange is found…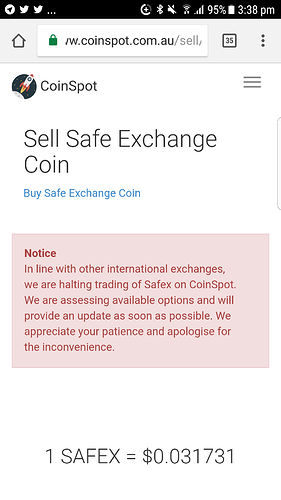 Hahah yes I see @safesam. I shall transfer them over into wallet. What a rollercoaster this has been. We will prevail in the end. What's the journey with out some excitement hey. Will we have 14days to get out of coinspot if they delist safex
I am not surprised, they were probably buying on exchanges and transferring to client wallets. They probably didn't have their own coins supply.
If coinspot permanently stop trading safe ex coin where should I send them to?
The official Safex wallet, download it from the website.
If the website is still down:
Hello can anyone help direct me to we're I can find instruction on how set up Safex wallet on my iPad.i have downloaded from the safex site but it just asks me to open in telegram.then it gives me 3 options. I selected keynote but I can only rename the file in keynote.i think I am missing something.any help would be appreciated thankyou
Hey guys, i've dloaded the wallet and just want to check something if i could. If I want to send my safex to the wallet, do i literally use the recieve code in the safex wallet? As use that as the destination address on coinspot? Thanks for your help.
Looks like Coinspot maybe delisting Safex due to Coinspot's affiliation with Bittrex??
was mache ich jetzt mit meinen safex coins in meiner bittrex wallet. sind die was wert
I don't mean to be a dick, but this question means you don't have even a very basic understanding of cryptocurrency.
I would HIGHLY recommend reading more on the subject before messing around with it. It is very easy to make a mistake if you don't know what you're doing and lose all your money.
Hey, no offence taken at all. I completely agree, I am very new to this. I have not risked a fortune or put myself in a precarious position. Thanks for the heads up about being careful mind. Would also of been helpful if you could of answered my question though

regardless, i've sorted it out. I'd be the first to admit i'm speculating on this
Hey guys, how long does it usually take to see safex coins arrive in the wallet?
Your lucky that the video that Dan has provided is carried out on Apple so it will be easy to follow.
You'll have to forgive me here… but these questions get asked here a LOT. It seems there are quite a few people who, instead of typing "how does cryptocurrency work" into google and spend a few hours reading, would prefer to ask the questions on forums and open up support tickets on -ahem- "certain" websites. This mentality seems to have caused a "certain" exchange to drop us, because they now consider our community "toxic".
It's kind of like seeing a kid picking up a loaded gun, waving it around, and then asking "So, how does this thing work anyway?"
Okay, so maybe it's not deadly. However, by not answering your question though, I'm trying to gently urge you to read more and understand the subject better than just enough to pull the trigger.
A while back we had someone come on here saying they had sent their Safex coins to a BTC wallet on Bittrex. That required a support ticket at Bittrex, and therefore man-hours, and that sort of thing does not help our image with exchanges as we've learned recently.
I half-drunk and somewhat tongue-in-cheek threw together a "noobs unofficial guide" the other night, but to be honest this is a community problem. It's not necessarily a bad thing that we're attracting users that are new to the subject, and I think as a community we need to come together and provide a clear learning path.
I'll just leave this here for now:
https://www.youtube.com/watch?time_continue=87&v=bBC-nXj3Ng4