Hello Community,
I did some more detail work of setting up a model that let's us estimate the total amount of lost Safex Cash and Safex Token in the TWM ecosystem. Therefore, I made the following approach:
Assumption 1: All circulating SFT are continuously staked.
Assumption 2: The quarterly Velocity of Money (qVoM) for SFX is always 10.
Assumption 3: A relative ratio of 0.5% of each last year's circulating SFT supply is lost every year beginning with year 3.
Based on these assumptions, a model can be set up displaying the following 3 edge cases:
Green scenario: Assumption 3 is not fulfilled. No SFT is lost at all. All mined SFX will stay in circulation forever. The circulating SFX supply is matching the theoretical supply from the blue paper in each year.

Orange scenario: All assumptions are fulfilled. The staked SFT that are lost remain staking for their 1 year intervall - then they stop collecting/reserving interest.

Red scenario: All assumptions are fulfilled. There is no fixed staking intervall. Once tokens are staked, they collect/reserve interest forever.

The light blue curve shows the total amount of lost SFT based on the yearly lost rate of 0.5%.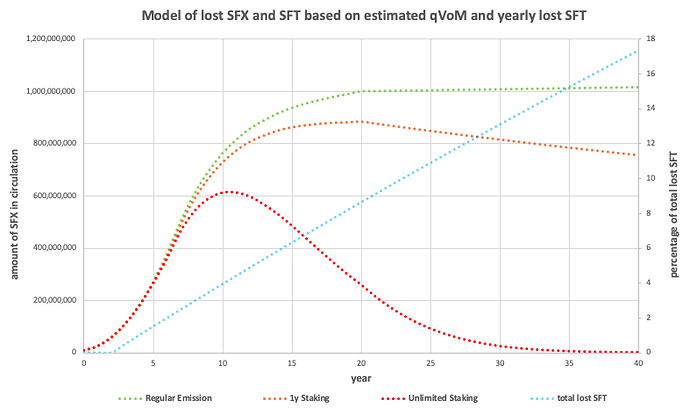 Based on the output of this model and the resulting graph the following key findings can be made:
In the first few years it makes no vast difference in the circulating SFX supply whether lost SFT are staking forever or only for one year for the set parameters.

The amount of circulating SFX reduces rapidly when the time interval is long enough and the set parameters result in a higher output (staking rewards of lost tokens) than input (emission via block reward) of the ecosystem.

SFX will become very likely a deflationary asset at the end of the regular block reward schedule in the future, even when a tail emission is existent after year 20.

An increase of the parameter qVoM (10) and/or yearly lost SFT ratio (0.5%) will result in a stronger effect -> circulating SFX supply will go down more rapidly because output of the ecosystem gets higher.
Let me hear your thoughts. If you want to set other values for the parameters qVoM (10), yearly lost token rate (0.5%) or tail emission (2 SFX/block) after year 20, I will put those in the model and post the chart. The model can also be adapted so that lost coins are allowed to collect/reserve interest for a different time interval (3y, etc).
(Limitation of the model: In edge cases the circulating supply can even become negative as the accumulated locked SFT demand more SFX than the circulating supply for high qVoM and date in the far future. For this cases, the interval of the data pairs (currently 1y) has to be reduced to months/weeks, so that the SFX demand by locked SFT in the new interval is less than the circulating SFX supply again.)