I received this news today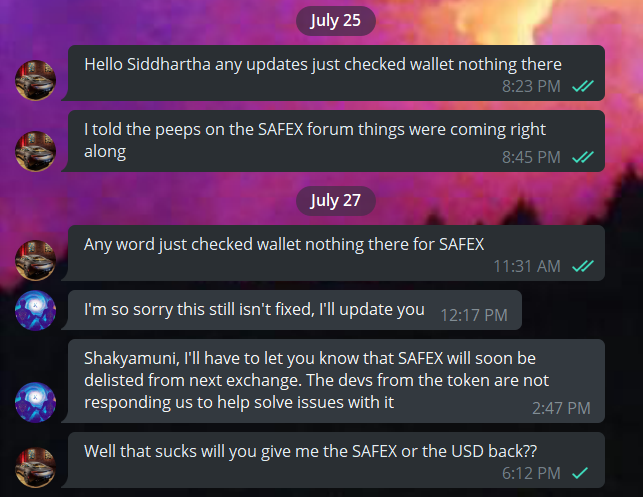 I've heard rumours about this but i have not yet seen an official announcement about it. It's a bit of strange situation but ultimately i don't think it's going to cause any major upset.
NEXT were scheduled to launch at the beginning of the year - we're almost 8 months in and they've still not done a full public beta run yet.
I'm aware of the issue that they are having - it's to do with integrating the Safex wallet. If they're unable to integrate an OMNI based coin - it's quite concerning.
The community has made the team more than aware of the upcoming blockchain launch - so the original Omni based Safex listing won't really be any use once we've switched over. I think their de listing possible has to do with that too as they know they'll be having to maintain a listing for a coin which is now on a separate blockchain.
Not to worry though - as soon as the Safex blockchain is launched, the team have said they are going to be aggressively applying for exchange listings - exchanges with good volumes and plenty of liquidity. Even if NEXT launched fully today, it would still be months before they even reach the volume Trade Satoshi performs.
Yes, see the above comment of rich.bate. Nothing to worry about.
Correct, no alarm bells here, only more confident now
with Rich.bate post
Rich.bate question
Whatever Exchange they will need to switch over to the new Blockchain and maintain it so what will happen with Plaak and Trade Satoshi people have been waiting for other option's especially when it took month for Trade Satoshi to reply and correct a login issue I had. I have also been waiting for NextEchange and not surprised @ this news. Plaak now says another month for people in the USA to be able to trade and that really means maybe three months LOL Good things come to those who wait Yahoo
Daniel mentioned that as soon as the blockchain is out, they will be applying for new exchange immediately. They might have something already arranged - i don't know, just speculation. But one thing for sure is that we will have access to a lot more exchanges with higher volume in the next 60-90 days. Maybe even sooner.