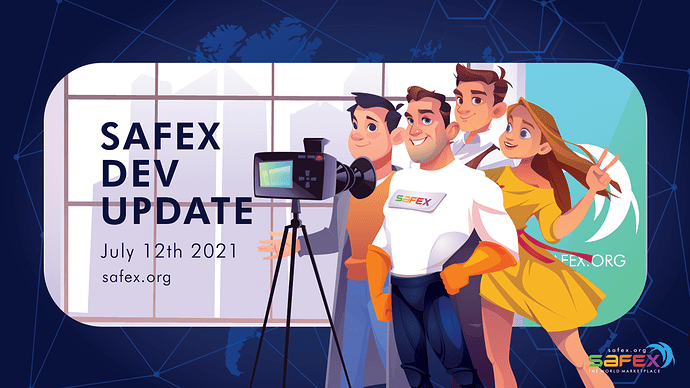 New Company Roll Out: Pre Seed Financing
During the past several months we have been exploring ways to increase our activity and expand the ability for the Safex ecosystem to grow.
Since the Safex Tokens were auctioned once now more than 5 years ago, and raised only $50,000; it was up to us to figure out how to bring a completed protocol to world. We did that, despite the minimal raise, and the scope increase (from a simple app on a 3rd party chain, into our own full blown blockchain and proof of work coin).
In the first place we wanted to build a system that exists in the digital frontier, an oasis for ecommerce. We have accomplished that with bootstraps, now is our opportunity to expand and aggressively pursue adoption of that protocol and a platform that can be built on top of it.
We have set up an entity: The World Marketplace, Inc., a Delaware corporation, in order to raise funding through a traditional equity style. In this round it is a SAFE contract, so in the future when we issue shares, your contributions today will count towards receiving shares in the company.
The company's mission is to bring the Safex platform to as many merchants and users as possible through software developments and marketing efforts.
The fundraising is capped at $3,000,000, is registered with the SEC, and for accredited investors only.
https://www.sec.gov/Archives/edgar/data/1869619/000186961921000001/xslFormDX01/primary_doc.xml
If you understand this: please contact us by filling out the form on the website: https://safex.market/interest
We will respond with a questionnaire, and if you are a qualified investor may have the opportunity to contribute in this Pre-seed round.
If you understand these things, please do not hesitate to support us (directly, and finally) with resources that will expand our development capabilities to release mobile wallets, and platforms for big merchants to utilize.
We are already a team of 3: Myself (Daniel Dabek), Aharon Bernal (who is in charge of building a onboarding platform since he has been using ecommerce platforms for the past 5+ years), and Zack Temer (a seasoned software development project manager 8+ years). We've already been working together for the past 6 weeks, we have an office secured that we move into this week (furniture and equipment already acquired), and we are eager to take up new developers to fill the roles of the tasks that we've already outlined that we believe will get our protocol into the hands of many.
We've proven that with a minimal fundraise, my own personal funds, frugality, and donations from a few supporters of the cause over a few years we were able to put together the system, now it is our task to bring the user facing elements, and bring it to market. And now imagine what we can do if given what other projects out there start with. Any contributor can make the difference, so please don't hesistate to reach out:
Safexcore Update
This week Igor merged the latest in several updates to the Safexcore full node. This is an important update and everyone should adopt the new binaries published in order to bring the network up to speed on some notable improvements that will propel us forward.
Included in this update is an RPC Server improvement that will enable lightweight libraries to connect to the full node and be capable of doing the important tasks of forming transactions and interacting with the marketplace application. Currently, the CLI wallet, and the wrapper around the CLI wallet which is used in the TWM Wallet and previously Orbiter are able to locally deal with the interactions with the full node, and now with the up to date RPC Server, we will be able to introduce light weight modules that we intend to embed into mobile applications that will enable a mobile wallet very soon.
Additionally, Igor put together a system into the CLI wallet that enables the ability to prove your ownership of coins (tokens and/or cash). This is an element necessary to create a voting application. While we are not entering a full blown voting application; however, the tools to create one are forming into place.
Further updates include a new route get_safex_offers_json which is a request that can be sent to the full node to receive back the offers that are active in the marketplace and the data returns in a nice format that can be utilized by a web application and others.
Also, there was a minor bug in the visualization of quantity of a sell offer in the merchant application where a quantity of 0 was displaying as a very large number on the merchant's display, this was fixed with this recent update.
These binaries can be downloaded, and all mining pools have been notified of the update:
Everyone should adopt this new update to ensure all features are available as we embark into new software for interacting with the marketplace.
Wrapped Safex Cash
The wrapped Safex Cash concept has been fully coded, and all clearances are prepared for it. The purpose of the wrapped Safex Cash is to increase accessibility to the marketplace, so that more people of the world will be able to find and gain access to it. An official announcement will be made, and so far there are no wrapped Safex Cash or Token deployed on any blockchain so far.
Keep in mind that the release of the wrapped Safex Cash while resolved internally is not going to be published for yet still some time.
Thank you for reading, thank you for all that you have done to support freedom, and a new paradigm to take hold for the world.



Sincerely,
The Safex Development Community
P.s. we started the dev updates in February 2019, and completed the marketplace mainnet by December 2020. Completed a v1 wallet in February 2021 which was released in April 2021 after terms and conditions were completed for the release. These development updates kept us and the team in the loop and focused on the tasks necessary to complete our goals. After the release, we went back to the drawing board and came out with The World Marketplace, Inc. strategy and consolidated energy to deploy into this new frontier that we have opened up. Thank you again for all of your support over the years and the fact that we have delivered on our promises of a decentralized marketplace with a privacy coin, because the world deserves a beautiful place open to trade in, and opportunity to more around the world. We have that with the Safex Blockchain and its marketplace.
You can meet some of the members and supporters of this new team in Miami, as well as some testimonials of those who know Daniel personally and have been tracking the journey in the video below: