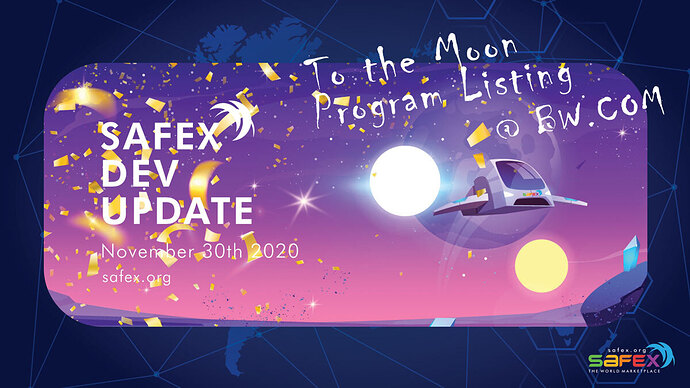 Bw.com To the Moon Program Listing
On Friday, the exchange bw.com if you check it out you get greeted by this banner: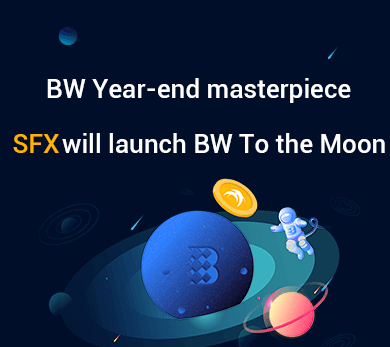 This is the first among a few exchanges that we have collaborated with to list Safex Cash to trading on the global market.
This "To the Moon Program" is a promotion conducted by the exchange and if you are interested in participating you can find the information at this link:
https://bwexchange.zendesk.com/hc/en-us/articles/360053055971
Safex Marketplace Release Hardfork 7
Next week on Monday we will announce the block height that will activate the marketplace to mainnet. Once this is posted we will commence updating full nodes and inform the community to do the same.
Safex Marketplace Whitepaper
Daniel and Igor are now fully immersed in putting together the final print of the whitepaper for release alongside the mainnet.
TWM Wallet | API
All issues from the previous iteration are resolved with the new PGP library embedded. Daniel is wrapping up the deployment of the API and the release of the wallet and it will be online for download on Wednesday.
In the meantime our front end developer Liam and designer have wrapped up the bulk of the wallet with new design and this week will take over the messaging and order management interfaces for the v1 marketplace launch.
Livecoin Withdrawals Fix
There was a minor bug found in the wallet related to integrated addresses when forming a transaction. The wallet verifies each transaction it will make with a public key, and in this case the wallet would not search the whole range of available public keys to verify the new transaction and terminates the transaction formation and returned a generic error.
Igor figured out the problem over the course of the past two weeks and is issuing the fix that will bring livecoin.net back to normal full operations without these dropping transactions.
So in summary:
Safex Launch Todo List in Progress
Updated Safex Website


Safex Marketplace Whitepaper in release phase
Technical Documentation Published for Developers in release phase
Mainnet Launch Date Target December 10, 2020
TWM Wallet v1 public test commencing
With the blockchain system completely concluded, we just have left to properly trim documentation, release the messaging part of the wallet, wrap up the design that is already in progress as we launch into holiday season.
Sincerely,
The Safex Development Community