Is Cryptopia also removing SAFEX. There is a notification stating the market is closing due to accusations and complaints???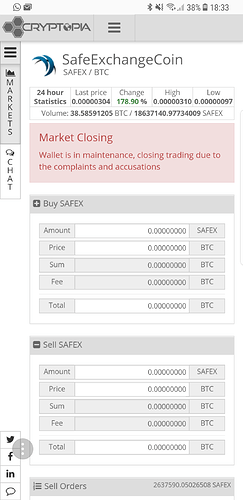 Seems like a really immature stattment to me. Doesn't necessarily mean it's for good, possibly till wallet issues fixed.
Yeah seems a bit of an odd statement to make.
Hopefully not, probably too many complaints from people not being able to receive coins from bittrex.
this wallet is maintance from yesterday.
My coins are all on cryptopia coz i couldnt get my wallet setup! Any suggestions?
My wallet is under maintenance as well!!!
Relax, i think zhats just because of the huge traffic caused by the bittrex closing
guys please where can i download safex wallet
I seen that too! But look on the bright side we got a endorsement more or less from John McAfee so that good!
Cryptopia just annouced they are also delisting due to accusations that are manipulating the market because of some wallet updates!
What now? Can't sell the coin.
Lol, why would you sell? This is better news than expected.
SAFEX deliting
2 days ago OMNI updated their codebase, this is a mandatory release so wallets needed to be placed in maintenance while it was updated and resynced.
Since then the SAFEX community have launched an attack on Cryptopia stating that we have placed the coin in maintenance just to manipulate the price.
We froze the markets in response but this just resulted in the SAFEX community doubling down their accusations.
As a result we have now decided to delist SAFEX due to the behavior of the community in general.
Once the coin has fully synced (at block 394077) as of this post, the wallet will be re-enabled and you will be able to withdraw.
We apologize of any inconvenience but we have a strict policy against behavior like this and will stamp it out immediately in a hope we can clean up Crypto in general
Demand is increasing and duo to no supply, which could result in a huge jump in short term gains. But this could also backfire.
What we as a holders, community members could do, is to write to all top 30 exchanges to list Safex.
Well, you can disable users for their behaviour but not the market. It is unprofessional. Where this statement is from? Its like saying Apple was delisted because customers didn't behave well.
After McAfee post (and keep posting about SAFEX), people started buying SAFEX like crazy. Cryptopia price was decent and rising cos of demand. But now, since its delisting, the only place to buy is safex.io, official website, where the rate is 0.00000924


So, when next exchange picks up SAFEX the price will be close to this one or the money people are buyng SAFEX from official website is going to be used for pumping the price, with marketing and stuff.