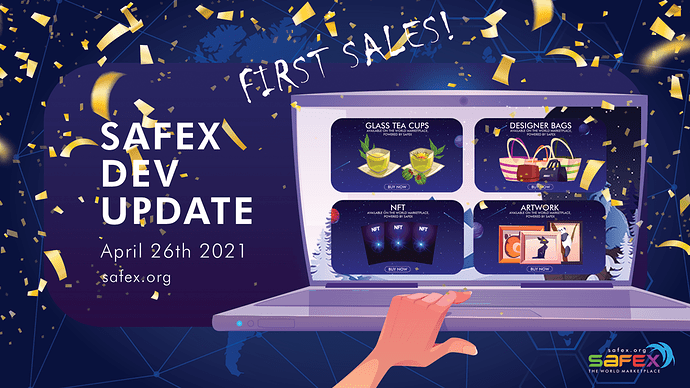 Safex Marketplace
Last week we released the TWM Wallet version 1.0.0, and the first sales already started to roll in. We listed a few designer bags, and to add a low priced item so people could start taking the TWM for a spin we threw up some NFT cards Daniel picked up during the conference from a well known NFT artist.
So far we have sales in more than 8 different countries with packages en route.
We all encourage you to give it a go, stake your tokens, click around, and pick something up to try it.
2.0 So far many people are amazed by the ease with the technology of the release. And industry experts in ecommerce are blown away by the capabilities of our system. Because of this we have secured some partners in ecommerce who conduct at minimum 1m$ in sales monthly across many ecommerce platforms. We will continue to listi small products throughout the weeks as we complete these onboardings so that more and more products can emerge. We are working on a launch with a cluster of Brands and make their entire catalog available over Safex Marketplace. Stay tuned for that.
If you have ANY special requests for products we'll do our best to bring them to the marketplace.
Remember: the download link can be found here:
https://theworldmarketplace.com
Check out the stats from http://safex.ninja/stats
We can be proud of this HUGE milestone, we've done it from A to Z and have posted, Real. Sales. Decentralized. Go Safex!!
New merchants will be able to get their hands on the merchant wallet in some time from now (weeks) that will be distributed to prospective merchants.
Safexcore 7.0.1
This week Igor pushed the 7.0.1 safexcore release to full release status, please if you are running a full node to update to this version as there are a number of improvements that help the network.
Release Safexcore Marketplace 7.0.1 · safex/safexcore · GitHub
1 click sfx miner progress
Last week Igor worked on a nodejs bridge for the safex cash mining module: xmrig, we are at the point of placing this new module into a GUI and then we can release an updated 1 click miner for mass consumption. The 1 click miner is an easy to use interface to start mining from your desktop without any configurations. This is different from sfxos since sfxos makes a dedicated environment, the 1 click is just an app that will run on the desktop alongside your everyday activity. We will update when this moves forward to next steps.
Thank you all who have been a part of this glorious milestone; we continue scaling up!
Sincerely,
The Safex Development Community