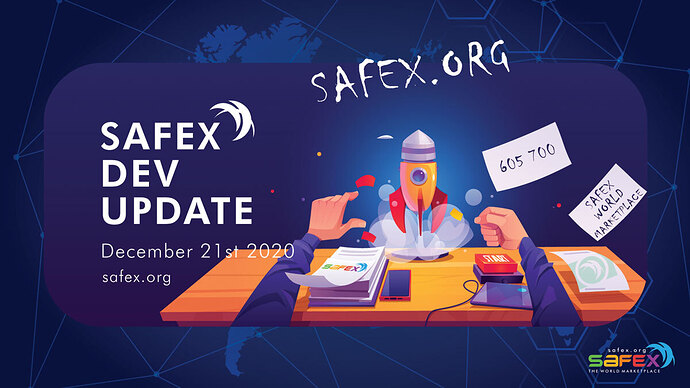 Mainnet Marketplace Release
By now all relevant participants have been notified about the upcoming Hardfork 7 which activates the advanced transactions system that incorporates the Marketplace logic on the Safex Blockchain. This includes exchanges, mining pools, services providers, and the media.
Can expect exchanges to extend deposit/withdrawal duration while the hardfork takes its effect. In some cases deposits/withdrawals will remain closed entirely during this period.
This hardfork takes hold on Block number 605,700 and the blockchain is currently at block 604,387 at the time of the release of this update.
The mainnet binaries for Hardfork 7 are found here and since last week we have added to the available operating systems for running the marketplace mainnet binaries.
If you are running a full node or service with the safexd or safex-wallet-rpc or safex-wallet-cli please ensure you update immediately.
Please note you may need to import keys into a new wallet file to take hold of the new environment.
TWM Wallet | API
The final design implementations are wrapping up to be released in time for the mainnet block crossing. The expected release and activation of the API is Thursday, as it will take some time to verify that all mainnet instances of the API are online and connecting properly. We will use Wednesday to confirm these elements.
Twitter Suspension
Should be good to note that the twitter.com/safex account has returned and the foundation is mindful of the event.
BW.com SFT listing and trading
During last week BW.com took initiative and listed Safex Token for trading on their exchange.
BW, The world's leading one-stop financial service platform, Bitcoin exchange | BW exchange | BW digital currency trading platform
Sincerely
The Safex Development Community